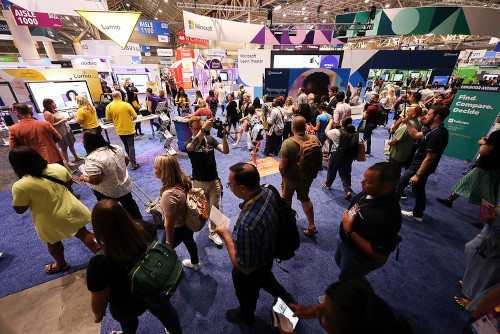 This summer, thousands of educators and vendors who serve education descended on New Orleans and braved 110% humidity for the first "back to normal" conference for the International Society of Technology in Education, or ISTE. After two virtual conferences, folks were excited to be back in person, and despite continued COVID protocols, hugs abounded as friends and colleagues reunited on the tradeshow floor and during sessions throughout the New Orleans convention center. 
My conference experience began at the Future Ready Library Summit on Collaboration where 150 librarians from across the country—and even overseas—gathered to brainstorm ways in which they could better collaborate with teachers, principals, district leadership, and each other. I had the opportunity to welcome the group and felt compelled to share a story about one of my previous visits to New Orleans in 2005, about a week after Hurricane Katrina made landfall. 
Back then, I worked as a television journalist in Oklahoma City. I traveled with the Army to New Orleans to cover the search, rescue, and recovery missions.  While there, we slept in the Walmart parking lot in the Ninth Ward. I had to wear a mask (many years before masks were the norm) and put Vicks VapoRub under my nose to combat the smell of the flood water and waste. My videographer smoked cigarettes at the time, and I found myself standing next to him because the cigarettes smelled better than the air (and I've never had a cigarette in my life)!
While canvassing the neighborhood, we found many homes that had been successfully evacuated. Heartbreakingly, we found some homes in which the resident didn't make it out. But I've never forgotten when we knocked on the door of a home and Paulette answered. She was wading through a foot of water in her living room. She explained that she didn't want to evacuate because her friend Sylvia brings her food every two weeks and didn't know how she would survive without Sylvia's delivery. What Paulette didn't understand was that Sylvia wouldn't be bringing her food. We convinced her to go with us to the Superdome, where she would be transported to one of five cities taking evacuees. 
I've never forgotten Paulette. I have no idea what happened to her but can only hope she found herself in a city with the kind of support services she needed. 
I shared Paulette's story with the Future Ready group at ISTE that day because she had no control over the hurricane headed for her home; she had no control over the next delivery of her groceries; and she had no control over where the Army transported her for her next home. Not having control is scary. 
And there's my point. There are many esoteric challenges facing education today. Librarians can't control the pandemic… or parents arguing about masks, vaccines, or books. But librarians can control how and if they collaborate.