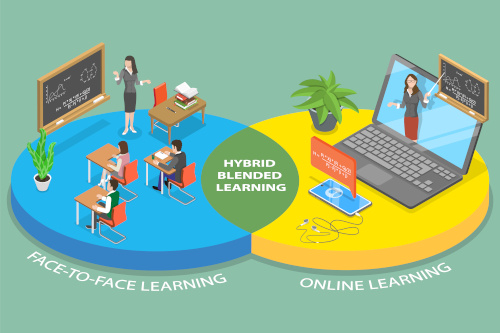 Over the past year and a half, "hybrid learning" has become quite the buzzword when it comes to education. With the COVID-19 pandemic impacting learners across the world, we've witnessed the growing need for hybrid learning, an education option that combines the benefits of a traditional in-person classroom and online learning. But the need for this option won't just be a fleeting trend. The future of hybrid learning is bright, and the benefits are unmatched. I've seen it for myself.
As an educator for 10 years, I've worked in in-person, online, and hybrid classrooms. I've experienced the dos and don'ts of creating learning environments where my students can not only learn but be their best selves. When my colleagues ask me for my secret for success, here are the tips that I share: 
1. Establish a positive hybrid learning culture and a strong learning community. 
A strong community is at the heart of every good classroom. While we can't hug and high-five our students through a screen, a hybrid classroom can still foster a warm community of connected learners.
A great way to accomplish a positive environment is by first highlighting the benefits of this teaching method. Hybrid learning has numerous benefits for your students, parents, and teachers, including increased flexibility, accessibility, and the ability to use innovative learning tools. If you are switching over to a hybrid learning environment, ease any questions or concerns by communicating these benefits and encouraging your students to get the most out of this valuable learning experience.