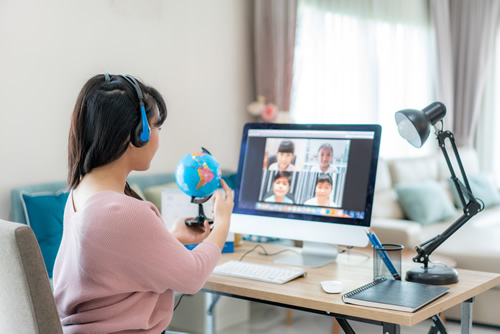 Each year, we share our 10 most-read stories. Not surprisingly, many of this year's Top 10 focused on student engagement and online or hybrid learning strategies related to pandemic teaching. This year's 9th most-read story focuses on strategies for impactful remote learning.
It's halfway through the academic year, and schools across the United States are still wrestling with how to keep students enthusiastic about learning through a computer screen. According to a recent survey of high school students, more than half (54 percent) reported being less engaged during remote learning than during in-person classes.
In a virtual environment, educators are continually competing with diversions that aren't present in the classroom, such as social media, television, and video games. Family distractions are also at play, particularly for older students who may care for younger siblings while parents are at work. Amid these disruptions, it can be challenging to get students to consistently log on, stay on, and participate in learning.
As educators, we are always thinking about who our audience is. What academic, social, emotional, and behavioral challenges are our students dealing with? We then use that information to brainstorm how to best approach online lessons, build and maintain critical school culture and relationships, and enable other wrap-around supports, such as counseling and therapy. This can be particularly complex when meeting the needs of students experiencing trauma.
During this time of remote learning and social distancing, myriad factors contribute to increased trauma in children. Rising anxiety, loneliness, fear, isolation, and lack of structure and routine have a disproportionate impact on the lives and health of already vulnerable populations. Creating an engaging virtual environment for students can be difficult, but a few insights, best practices, and strategies can help you craft your remote teaching approach.
First and foremost, be yourself.
This advice applies to administrators, teachers, staff members, and the school as one community. Your students know you and expect to continue the same relationship with you even when they're not physically in the school building. For example, it is crucial to maintain the norms you'd have in the classroom. Continue to review your classroom expectations to give students a sense of normalcy and show them that even though learning looks a little different, the classroom is still a familiar place for them.