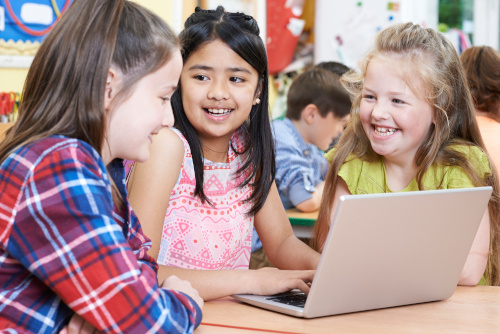 As an Instructional Technology Coach in Georgetown County, South Carolina, I have the amazing opportunity to work closely with teachers and students as they use educational technology in meaningful ways. 
It is clear that COVID-19 has changed how teachers use educational technologies to support teaching and learning.  During the "Emergency Teaching Era" of the pandemic, educators grew quite familiar with edtech resources and developed many new competencies and strategies for integrating those resources into instruction.  However, as the education community tentatively moves into what I think of as the post-COVID world of education, the competencies and skills teachers built, and the edtech tools they acquired, can be used in new ways within your classroom.  Here are some of the best strategies and skills I've recently learned for the new technologies I began to use during the Pandemic:
Write Around the Room: This is a great activity to do with upper elementary through high school aged students, and capitalizes on devices students received and the keyboarding skills students picked up while learning remotely.  For those of you who have ever found yourselves searching for creative ways to inspire your students to write while also reinforcing important skills related to story structure, having your students "write around the room" is a fun way to get your students excited about writing. 
Each student will need a Chromebook or laptop or tablet with word processing software like Google Docs or Microsoft Word. Give each student in the room a DIFFERENT story starter. Mix it up if you want…Make some story starters funny and others informational. Set a timer for 3-6 minutes, and instruct the students that they are tasked with writing the BEGINNING of that story. At the timer's end, tell students to get up and move to another device anywhere in the room and continue the story on that device. Set your timer for 3-6 minutes once again and have your students write the MIDDLE of this new story. When time is up, have students move to different devices one more time to write an ending to a third story. Many times students will start their section of writing with a new font or font color which makes it easier for them (and me) to track their progress through that piece. The real fun is in the reading of the stories. I love it when students throw in plot twists and surprise us all!
Spur of the Moment Reviews (with a twist!): Let's face it…It happens to us all. We finish up a super lesson that we are most pleased with ourselves for creating, when we realize we still have 10 minutes before lunch and NOTHING planned to fill that time.  With students online, it was the perfect time for a bio-break–now, with students in your classroom, you must have a plan for gaps.  The good news is that your students ALWAYS have important skills and topics to practice and review. You can review multiplication/division facts, operations with integers, prefixes/suffixes, verb tenses, physics facts, important events in history, and any other topic your students may need at a moment's notice! 
Quiz software is something we all learned about during the pandemic.  For this strategy, it's as simple as signing up for a FREE account with an online quiz game creator like Blooket. I kept Blooket handy when we were forced to teach remotely, and it is just as effective (if not more) when launched in a live class session. Warning: Your students are going to get excited, and maybe a little loud. Blooket is VERY similar to the popular Kahoot! service, however Blooket allows you to decide which game format you would like to present to your students for that session. My students always loved the "Battle Royale" game because Blooket randomly put them in teams (with VERY silly names) that would compete against each other. Both platforms offer libraries of reviews created by other educators as well. These games have been life-savers for me as we transitioned back to face-to-face instruction and found ourselves adhering to a rigid schedule.